Browsing all articles in Android
ndroid dominates the consumer global platform race with nearly 70 percent market share, but in the enterprise Apple's iOS platform dominates. It's a bit of a conundrum for Android, which apparently scares tech executives worried about multiple flavors of the OS and security.
Let's roll the market share stats:
According to Gartner, Android's global share is nearing 70 percent.
In the U.S., ComScore puts Android share at 53.4 percent with Apple iOS at 36.3 percent.
So far so good right? Not for corporations. In the enterprise, using Citrix Zenprise data as a proxy, Android is far from dominant. Apple, which allegedly doesn't give a hoot about the enterprise, dominates.
Here's a look at the Android vs. iOS race in the corporate world based on third quarter Zenprise data. Zenprise is a top 5 mobile device management vendor recently acquired by Citrix.
A few things to note about those standings:
Android share is trending up and the Asia stats were skewed by a few large iOS deployments.
iOS market share in the corporate world is fueled by the iPad, which accounted for 57 percent of iOS devices.
Android is dominant in transportation, health care and communications verticals. iOS leads in education, energy, legal, real estate and insurance.
What's the hangup with Android in the enterprise? A few thoughts:
CIOs are wary of the different flavors of Android and iOS is easier to secure.
Apple leads the tablet race so that reality boosts iOS a lot in the corporate market.
Windows and BlackBerry are likely to retain some market share in corporations and that's going to prevent the Android-iOS duopoly situation seen in the consumer market.
Security is a concern for Android applications. Blue Coat Systems highlighted the Android risks recently.
[zdnet]
Wine can best be described as a compatibility layer that allows users to run certain Windows apps on non-Windows operating systems like Linux.
Currently, Wine is primarily deployed by Linux users running x86-based systems, although developer Alexandre Julliard is working on a wine port for ARM-powered Android phones and tablets.
As Liliputing's Brad Linder notes, porting Wine to Android goes hand-in-hand with making the platform compatible with ARM architecture.
"The project could make it possible to run full desktop apps on a mobile device… although Wine has never been 100 percent compatible with All Windows software," Linder explained.
"Indeed, many apps won't run at all on a Linux computer with Wine installed, and others will run, [although] some features may not work properly."
And as Phonrix's Michael Larabel points out, the Wine port for Android is an active work-in-progress and hasn't received much attention yet.
"While Wine is coming to ARM and there's quite a lot of interest there, [we are] quite interested and hopeful for the success of Intel x86 Atom CPUs for tablets… If Android gains traction on x86-based tablets and other mobile devices, CodeWeavers has a lot of commercial opportunities for pushing the running of Windows software on Android," he added.
Of course Wine isn't the only Windows emulator out there. As previously discussed on TG Daily, a developer by the name of Dan Aloni recently coded an app that allows users to play classic Windows games (95 or 98) on Android devices.
Aptly dubbed Winulator, the app remains a work-in-progress and isn't yet available to the public. However, a demo video has been posted on YouTube and can be seen below.
[tgdaily]
Following the launch of Nexus 4 and Nexus 10 devices in various markets around the world, complemented by the availability of the Android 4.2 OS upgrade for these devices, Google has also decided to make the platform release's code available for developers.
Today, the code for this OS flavor can be found in the Android Open Source Project (AOSP) as "android-4.2_r1,″ so that developers and ROM builders can start playing with it.
At the same time, the availability of the code will provide handset vendors with the possibility to start building software updates for their devices.
Additionally, Google also announced the availability of an updated Android SDK for software developers to start taking advantage of. The new Android 4.2 (Jelly Bean) SDK platform comes with API level 17.
According to Google, the new release comes with performance changes, as the company worked with partners to run Renderscript computation directly in the GPU on the Nexus 10, the first time that this is being attempted.
As mentioned before with regard to Android 4.2, the new operating system version comes with support for interactive lock screen widgets, which will provide users with instant access to apps and content.
"With just a small update, you can adapt any app widget to run on the lock screen," Google notes in a post on Android Developers.
"Daydream is an interactive screensaver mode that users can encounter when their devices are charging or docked in a desk dock. You can create interactive daydreams that users display in this mode, and they can include any type of content."
Android 4.3 also comes with support for external displays, enabling developers to build apps that can target unique content to any number of displays that have been attached to the Android device.
At the same time, the new operating system comes with native RTL support, which should provide developers with the possibility to come up with better apps for users in languages such as Arabic, Hebrew, and Persian.
"With native RTL support, you can deliver the same great app experience to all of your users with minimal extra work. Android 4.2 also includes a variety of font and character optimizations for Korean, Japanese, Indic, Thai, Arabic and Hebrew writing systems," Google explains.
The Android 4.2 Jelly Bean SDK can be found on Softpedia on this page.
The Android NDK is available via this link.
[softpedia]
5 Best Office Apps for Android Free
Now, more and more android phones launched with larger and larger screen like as Samsung Galaxy S3 and HTC One X. It can't be another choice to videos watching or documents reading on those phones. What's more, with the great office documents viewer apps, we can deal with our work on the way. Here I will introduce you 5 best free office suites for android phones and tablets.
5. Olive Office Premium (Rated:3.9)



OliveOfficePremium is a software suite for Android devices that enables you to view and edit Microsoft Word(doc/docx), Excel(xls/xlsx) and PowerPoint(ppt/pptx) files. In addition,it inherits the function of viewing portable document file(pdf) and compiled help manual(chm) from OliveOfficeBasic.
Support formats: doc/docx/xls/xlsx/ppt/pptx/pdf/chm/mth
4. Documents To Go 3.0 Main App (Rated:4.1)
Docs To Go, now in its 11th year, is developed by DataViz, Inc., a producer of quality software for Windows & Mac for over 26 years. In addition to the Android platform, Documents To Go is also currently available for iPhone, Blackberry, Palm, Maemo & Symbian S60. You can view native Microsoft Word, Excel and PowerPoint files & attachments with Documents To Go Main App.


Supports formats: doc/docx/xls/xlsx/ppt/pptx
3. ThinkFree Office Mobile Viewer (Rated:4.1)
ThinkFree Office lets you viewing MS Office docs (Word, Excel, Powerpoint) as well as other formats. Apart from the "physical" files, you will be able to view the document attachments in the e-mail that you receive as well as send them. If you already have a ThinkFree Office account, you will be able to login from there and view online your documents on the cloud. If you aren't a ThinkFree user, you can subscribe the service from the app. But the feature that we really appreciate is the integration with Google Docs. Thanks to it you can access your Google account and view your documents there. What's more, if you choose it as "default docs viewer", ThinkFree Office will open automatically your docs offline and online.
Support formats: doc/docx/xls/xlsx/ppt/pptx/pdf
2. OfficeSuite Viewer 6 (Rated:4.1)
OfficeSuite is a universal document viewer for Android that enables you to open native DOC, DOCX, TXT, XLS, XLSX, CSV, PPT, PPTX, PPS, PPSX, and PDF files and attachments. All of the MobiSystems Office Suites feature landscape/portrait view, different zoom options and full screen, and accelerometer support. OfficeSuite opens ZIP file, and contains a file explorer that makes managing your documents and folders easy. Android 2.2 or higher users can install the app to the SD card. OfficeSuite supports localization in French, German, Spanish, Italian, Traditional Chinese, and Simplified Chinese.
Support formats: doc/docx/xls/xlsx/ppt/pptx/txt/csv/pps/ppsx/pdf
1. Kingsoft Office (Rated:4.5)
Kingsoft Office for Android is an efficient mobile office solution made exclusively for mobile phones and tablet devices running the Android OS. Kingsoft Office for Android allows you to CREATE, VIEW and EDIT all documents used by Microsoft. It is integrated with an Email application that allows you to send documents as attachments and to download and edit attachments. Furthermore, you can access Box.net by default and any other cloud storage which supports the WebDAV protocol.
Support formats: DOC/DOCX/TXT/XLS/XLSX/PPT/PPTX
Beside those local files reader, we can also use some online storage apps to view the docs and other files, like as Google Docs, Dropbox etc. If you want to edit your files with those office suite, some of them need to be updated to Pro version or full version.
[android-circle]
Android 4.2 offers improved protection from rogue apps installed via third-party stores.
As the Android operating system grows in popularity,  viruses, Trojans, and other nefarious apps targeting the OS are on the rise. Fortunately, the recently unveiled Android 4.2 (still Jelly Bean) brings with it the launch of the new and more powerful security system integrated into the operating system.
The core component of the new Android 4.2 security suite is a real-time app scanning platform  designed to check running apps before any rogue software can install any malicious code.
Interestingly, the new security features in Android 4.2 appear to fit well with various security measures that Google implemented on the Play Store earlier this year. Indeed, the security on the Google Play Store resides on the server side and constantly analyzes uploaded apps.
On the device side, the new security features keep an eye on instaelled apps – offering a modicum of protection if you download software from somewhere other than the Play Store.
"We view security as a universal thing," Android VP of Engineering Hiroshi Lockheimer told ComputerWorld.
"Assuming the user wants this additional insurance policy, we felt like we shouldn't exclude one source over another."
Essentially, the app scanning software  is an opt-in product, so you'll be prompted by a request to verify apps. If you click agree, the security platform will start running and checking out apps you install or run. If for some reason you change your mind at a later point and don't want the security service anymore, you can easily shut it off in the security section of the operating system menu.
So how does the security system work? When an app is loaded, the device sends information identifying the application to Google servers, which then analyze the data and compares it to a database of known apps.
"We have a catalog of 700,000 applications in the Play Store, and beyond that, we're always scanning stuff on the Web in terms of APKs that are appearing," Lockheimer says. "We have a pretty good understanding of the app ecosystem now, whether something's in the Play Store or not."
If the app is loaded from a third-party store is recognized by Google's servers, the installation continues without any issues. However, if the information matches an app known to be dangerous or harmful the system will prevent you from installing it. You'll also be notified if the app is questionable, but not outright dangerous. At that point, you can decide whether you want to continue the installation process.
"The server does all the hard work… The device sends only a signature of the APK so that the server can identify it rapidly,"  Lockheimer added.
[tgdaily]
A team of university security researchers claim 41 Android applications downloaded by as many as 185 million users are plagued by faulty encryption and inadequate SSL protections that leak data between a device and webservers.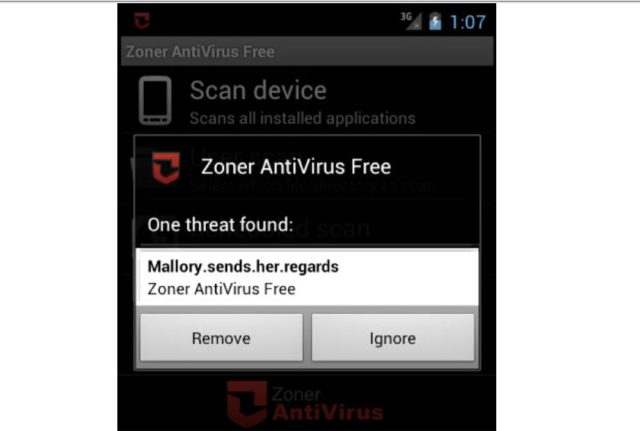 If the vulnerability is ultimately exploited – it would allow malicious hackers to steal data related to  online banking, social network credentials, e-mail, instant message content and more. In addition, the faulty SSL protections in one of the affected apps – an antivirus application – can make data vulnerable to theft on Android devices running Ice Cream Sandwich (Android 4.0).
Interestingly, the researchers refrained from specifying specific apps with alleged faulty protection, but did emphasize the programs had been downloaded between 39.5 million and 185 million times based on Google's statistics.
To prove the above-mentioned vulnerabilities, the researchers connected devices during testing to a local area network and used a variety of what they call "well-known" exploits to defeat the Secure Sockets Layer and transportation layer security protocols.
"We could gather bank account information, payment credentials for PayPal, American Express and others," the researchers, from Germany's Leibniz University of Hannover and Philipps University of Marburg, wrote. "Furthermore, Facebook, email and cloud storage credentials and messages were leaked, access to IP cameras was gained and control channels for apps and remote servers could be subverted."
Although there is little evidence to suggest any of the vulnerable apps were coded by Google itself, the researchers did note that engineers at Mountain View could take certain steps to ensure heightened security for apps hosted by Google Play.
"All things said, it's generally good research that should make developers more aware of these basic security deficiencies that shouldn't have made it through any respectable QA process," Jon Oberheide, CTO of mobile firm Duo Security, told ArsTechnica. "Needless to say, security isn't top of mind of most mobile developers."
[tgdaily]
It seems like only yesterday that Google bundled Ice Cream Sandwich 4.0 in its little biscuit layers and sent it off into the world (it was December, 2011, actually). That Android flavor has since climbed the charts rapidly, around four percent each month for the last while, and now occupies the ROM on 23.7 percent of robot-based devices — up from 20.8 percent last month. That's in part due to new devices (like many in China) still coming out of the box with it, on top of older warhorses like the Samsung Galaxy Tab 8.9 finally grabbing some ICS. Meanwhile, its smooth-running younger sibling, Jelly Bean, made a slight gain to 1.8 percent of all Google-run slates and phones — though that will likely change when the Galaxy Note II hits the market en masse and the Galaxy S III OTA 4.1.1 disseminates to all its owners. Meanwhile, Gingerbread still dominates Google OS installed devices at 55.8 percent, probably thanks to delays or denials of newer flavors to legacy devices.
[engadget]
Samsung has made available for download the Android 4.1 Jelly Bean-based source code for its Galaxy S III LTE smartphone unveiled only several weeks ago at the IFA 2012 tradeshow in Berlin.
The new device, set to hit shelves as model number GT-i9305, will arrive on the market in Europe
and elsewhere
with LTE connectivity packed inside, TalkAndroid notes.
The handset will be released with a quad-core Exynos chip included, unlike the existing Galaxy S III models that feature LTE connectivity inside and that are powered by a dual-core Snapdragon S4 chip.
All those enthusiasts who are interested in coming up with custom Jelly Bean ROMs for the Galaxy S III LTE smartphone can now head over to this page on the Samsung Open Source website to grab the tools that Samsung has made available for them.
[softpedia]
Intel has successfully ported the ARM-friendly Android Jelly Bean (4.1) to run on its mobile x86 architecture.
At this stage, porting Google's popular OS is a necessity for Intel, as Android is natively coded for RISC-based devices powered by ARM chips, rather than x86 processors.
Before the above-mentioned port was complete, Intel tablets and smartphones were primarily limited to Android 2.3 or 4.0.
Although the port is official, Santa Clara has yet to confirm when the updated OS will roll out to the few Intel handsets on the market.
It seems likely that the x86-friendly version of Jelly Bean will be pre-loaded on the UK-version of Motorola's RAZR M smartphone which is widely expected to launch on September 18th.
ARM architecture has long been the leader in the smartphone market. Santa Clara, while dominant in the PC world, has yet to make much headway in the lucrative segment.
"We estimate Intel has been able to capture only 6 percent to 8 percent of market share in the mobile handset processor revenue business – with its small success in this area mostly due to the company's acquisition of the wireless business of Germany's Infineon Technologies," IHS iSuppli analyst Craig Stice explained in a recent analysis.
Indeed, Santa Clara still hasn't launched a smartphone in the US, limiting "Intel-inside" handset roll outs to France, the UK, India and China.
[tgdaily]
The first official CyanogenMod 10 builds are now available for all interested users to download and install on their smartphones.

Pushed out as CyanogenMod 10 M1 builds, these are only experimental builds, the team behind the open-source project notes.
The release is meant to put an end to the emergence of unofficial builds mainly due to the fact that these are lacking the required quality.
"Since we are open-source, we absolutely encourage it! Unfortunately, the quality of unofficial builds can vary, and we are serious about quality," the team explains.
"Starting now, we are rolling out our M-Series releases. M-Series builds will be done at the beginning of every month. We did a soft freeze of the codebase for the last week, blocking new features in order to stabilize."
Nightly builds are available for download as well, yet users who are looking forward to install more stable software on their devices should go for the ROMs included in the M-Series.
One thing that users should keep in mind is that the M-Series builds will all have the "Experimental" tag attached to them.
"The filename will include the date stamp as well as the M version. These builds should be stable enough for daily use, and we encourage feedback and bug reports," the team explains.
The newly released M1 build comes with support for a nice range of handsets, including Galaxy Nexus GSM (maguro), Galaxy Nexus VZW (toro) and Galaxy Nexus Sprint (toroplus), as well as Nexus S (crespo) and Nexus S 4G (crespo4g).
It arrived on other devices too, including Galaxy S2 GT-I9100G (i9100g), Galaxy S (galaxysmtd), Galaxy S B (galaxysbmtd), Captivate (captivatemtd), Galaxy S3 Sprint (d2spr), Galaxy S3 VZW (d2vzw), Galaxy S3 AT&T (d2att), Galaxy S3 TMO (d2tmo), Galaxy S3 US Cellular (d2usc), Galaxy Note AT&T (quincyatt), Google Nexus 7 (grouper), Sony Xperia Acro S (hikari), and Sony Xperia S (nozomi).
Those who would like to get the new CyanogenMod 10 M1 builds should head over to the Get.CM website. Additional info on the software, along with specific installation instructions can be found on the CM Wiki, as well as on official CM forums.
[softpedia]
Blogroll
Google Search :)
Calendar
Archives
Recent Posts