Browsing all articles in Notebook
CyberPower is one of the better known builders of gaming desktops, but the company also makes supercharged laptops capable of running the latest GPU-punishing titles. The Fang III Taipan is its latest portable offering, and it carries both high-end components and a high-end price. The default configuration will set you back a heart-stopping $1,819, but the 2.4GHz Core i7, 16GB of DDR3 RAM and pair of Geforce GTX 670Ms in an SLI arrangement ensure you're getting your money's worth. There's also a 60GB SSD and 1TB hard drive under the hood so you don't have to choose between performance or storage. You can also pair up a couple of SSDs in a RAID if that's your thing. To get the most out of all that power there's a 17.3-inch 1,920 x 1,080 LED panel and an Onkyo sound system with a subwoofer for your aural enjoyment. Obviously, the Taipan is only portable in the loosest of sense considering its bulky 8.6-pound frame, but we doubt anyone would really want to carry roughly $2,000 worth of computer with them in public anyway. Heck, if you really wanted to trick this thing out with 32GB of RAM, a 3.0GHz Core i7, 1TB of SSD storage and a pair of GTX 680Ms you could easily top $5,000. Hit up the source link to configure your own.
[engadget]
Meski mungkin saat ini penjualan laptop sedang tergerus oleh gempuran tablet, namun Sony dengan Vaio-nya masih akan tetap menawarkan laptop-laptop cantik dan canggih dari jajaran seri E dan C. Kedua seri ini akan hadir dengan beberapa pilihan ukuran dan warna, seri C memiliki warna merah dan biru, sedangkan seri E hadir dengan ukuran 14′ dan 15,5′ dan tersedia dalam empat warna : biru gelap, putih, hitam, dan pink. Ada juga ukuran 17,3′ yang tersedia dalam watna hitam dan putih.
Seri E ditenagai oleh prosesor generasi kedua dari Intel Core i3 atau i5 dengan teknologi Turbo Boost. Untuk ukuran 15,5′ dengan warna hitam juga memiliki pilihan untuk menggunakan prosesor dual core AMD E-350 dengan VGA Radeon HD6130. Layar seri E ini menggunakan LCD yang dibacklit oleh LED sehingga pewarnaan dan kecerahan layar menjadi lebih baik daripada layar LCD biasa. Tidak lupa konektivitas HDMI dan dukungan sebagai remote untuk TV BRAVIA dan PS3. Laptop seri E ini akan mulai tersedia secara pre-order mulai tanggal 19 Juni di website Sony dengan harga $599.99.
Seri C memiliki spesifikasi yang setingkat diatas seri E. Masih memakai prosesor generasi kedua dari Intel Core i5, laptop ini memiliki optical drive untuk Blu-Ray, dan menggunakan kartu grafis Radeon HD6630 dengan memori 1GB. Untuk ukuran 14′ baterai laptop ini mampu bertahan hingga 9 jam, dan 8 jam untuk ukuran 15,5′. Sensor Exmor R juga di benamkan pada webcam laptop ini untuk penggunaan kondisi rendah cahaya. Sama seperti seri E, Sony mulai membuka pre-order seri C pada tanggal 19 Juni dengan harga mulai dari $749.99.

[teknoup]
The ThinkPad X1 thought it was safe. It foolishly believed that, having reviewed it in full, we would spare it from further scrutiny at Lenovo's UK launch event this evening. We quite naturally did no such thing, poking and prodding at the slimline laptop — which still feels supremely well built — but we also went that one step further, by putting it through a trial we didn't dare subject our review unit to: a spill test. Well, it was a less a spill and more of a steady stream of water that we doused the X1 in, which might explain why it eventually gave out and shut down on us. Lenovo says that the keyboard tray can only handle 25cl of water before throwing a self-protect switch and turning the computer off. Given enough time to fully dry out, our unfortunate test subject might even have been brought back to life, but our efforts at restoring it were met with failure. You can see the H2O-based carnage after the break, though we should note that Lenovo managed to perform this test three times without taking the X1 out of commission… before we came along and ruined its spotless record.

[engadget]
After announcing a
trio of consumer laptops
, you didn't think HP had forgotten about its business line, did you? The company also trotted out three lightweight models for the corporate set, including the 12.1-inch EliteBook 2760p convertible tablet, which has been
rearing its head
around the FCC as of late. Although it's an update to the
current-generation 2740p
, it sticks with its tried-and-true metal design. But — surprise, surprise — it steps up to
Sandy Bridge
Core i5 and Core i7 CPU options, promises 5.5 hours of battery life with the standard six-cell, and will be one of several models compatible with HP's newly minted (optional) prepaid data service,
DataPass
. Is this the Windows 7 tablet you've been looking for? It's on sale now starting at $1,500 —
stylus included
.
Next up is the EliteBook 2560p laptop, an update to the 12.1-inch 2540p. This one, too, has a tough aluminum-and-magnesium-alloy build, but it gets the good ol' Sandy Bridge treatment and also shifts to a 12.5-inch display — a screen size that's rarely stretched to 16:9 proportions. And, HP claims it's the only laptop of its size with a built-in optical drive, if sacrificing optical discs isn't a compromise you're willing to make. Look for it on May 23 with a starting price of $1,100.
Lastly, there's the ProBook 5330m, a 13.3-incher that's trying hard to win over Generation Y-types just dipping their toes into the workforce… and who will call in sick if their work machines aren't trendy, or something. In addition to a dual-tone aluminum chassis, it plays cool with a backlit keyboard, Sandy Bridge Core i3 and i5 CPU options, and Beats Audio — a first for an HP business system. On the inside, meanwhile, it offers TPM circuitry and optional Intel vPro processors — perks for the IT managers likely to buy these in bulk. These are on sale now, starting at $800.
HP Brings Style, Performance and Portability to Notebook PCs
PALO ALTO, Calif., May 9, 2011 – HP today expanded its notebook PC line with products and services that provide an optimal combination of sleek style, ultra-portability and high performance to deliver an outstanding mobile experience.
The company also launched HP DataPass, a pre-paid 3G mobile broadband service available in the U.S. across HP's business notebook lineup and expanded HP Beats Audio technology to a business notebook and consumer Mini PC.
HP furthered its FORGE business notebook design framework with the HP ProBook m-series and EliteBook p-series models and built upon its MUSE consumer notebook design philosophy with the HP Mini 210, Pavilion dv4 and ENVY 14.

New products and services include:
- Less than 1-inch thin, the HP ProBook 5330m features a dual-tone color scheme, brushed aluminum chassis and backlit keyboard and is HP's first business notebook to offer BeatsTM Audio, which allows listeners to hear music the way the artist intended.
- HP's smallest and lightest EliteBook at only 3.68 pounds, the newly designed HP EliteBook 2560p includes a 12.5-inch diagonal high- definition (HD) display, high-performance Intel® processor, and is the only notebook in the industry with an integrated optical drive in this form factor.
- The redesigned HP Mini 210 sports vibrant new colors, HP Beats Audio and HP QuickWeb 3.0, creating an ideal mobile companion for on-the-go consumers.
- HP DataPass is a pre-paid 3G mobile broadband service that allows users to purchase wireless broadband data using major mobile carriers in the U.S. without being tied down by contracts, hotspots and set-up fees.

HP ProBook 5330m – thin, stylish and affordable
Designed for savvy business professionals who value style, performance and affordability, the HP ProBook 5330m measures less than 1-inch thick, weighs 3.9 pounds and sports a 13.3-inch diagonal HD screen for exceptional portability. It also includes a backlit keyboard, making it easier to type in low-light environments.

The new ProBook is powered by the latest second-generation Intel Core i5 and i3 dual-core processors and includes the HP Fingerprint Sensor and TPM for enhanced hardware-based data security. Optional Intel vPro technology helps deliver cost savings and improves security and remote manageability.

HP EliteBook 2560p and 2760p – light, powerful and travel-ready
Available in a stylish platinum color, the ultraportable HP EliteBook 2560p Notebook PC and EliteBook 2760p Tablet PCs blend modern design and precision engineering.
The HP EliteBook 2560p sports a thin, clamshell design with a lightweight 12.5-inch diagonal LED-backlit HD, 16-inch x 9-inch display, and an integrated optical drive for added on-the-go convenience. Offering the same functionality as a conventional business notebook along with the flexibility of a writing tablet, the 12.1-inch HP EliteBook 2760p allows for pen use or finger touch.

Both EliteBook models offer second-generation Intel Core i7 or i5 dual- core processors, Intel Turbo Boost Technology 2.0 and vPro technology. They also feature full-size 7,200 RPM hard disk drives and solid-state drives (SSDs) for longer battery run time, increased durability and quieter, cooler operation.

HP Mini 210 – stylish, on-the-go computing
With the addition of Beats Audio, the redesigned HP Mini 210 is the ultimate companion PC, offering high-quality entertainment plus productivity while on the go. Weighing under 3 pounds and measuring less than 1-inch thin, the stylish HP Mini 210 delivers up to 9.5 hours of computing.

The new Mini 210 design provides a modern, streamlined aesthetic with a sleek upswept back and is available in five colors – sweet purple, charcoal, crimson red, luminous rose and ocean drive.

The Mini 210 also features HP QuickWeb 3.0, allowing users to be more productive by connecting to the web within seconds of powering the mini. QuickWeb 3.0 includes a customizable widget dashboard and syncs to Windows® bookmarks. Users can chat with friends on Skype, update Facebook posts or tweets, and view their social calendars all in one place.

Innovative technologies for enhanced consumer experiences
The sleek, full-performance HP Pavilion dv4 features improved HP CoolSense technology that includes a simplified user interface of on, off and auto. CoolSense uses advanced hardware and intelligent software for a notebook that feels noticeably cooler. Weighing under 5 pounds, the dv4 boasts a 14-inch diagonal HD LED BrightView screen and comes in two HP Imprint colors – espresso black and pacific blue.

Also featuring HP CoolSense technology is the award-winning HP ENVY 14 notebook PC. Combining power, mobility and aesthetics, the ENVY 14 includes new second-generation Intel Core processors, USB 3.0 and a new HP imagepad that uses image sensor technology for advanced gesture support and more fluid control. The premium machine boasts a precision-etched metal alloy case with a 14.5-inch diagonal, HD BrightView Infinity LED display for an eye-popping viewing experience and Beats Audio for fuller, more detailed sound.

Protecting personal information and simplifying password management is easy with HP SimplePass with One Time Password, now available on the Pavilion dm4, dv6 metal and dv7 metal notebook PCs. HP SimplePass helps prevent phishing fraud by providing unique ―one-time‖ passwords that are linked to each individual user's fingerprint. These one-time passwords, generated every 60 seconds, grant more secure access to websites that store financial information.

Docking and display solutions for a customized workspace
The new HP 2560p Docking Station makes it easy for business professionals to maintain the connectivity and comfort of their notebook while working from a fixed station. The docking station offers four USB ports and eSATA, DisplayPort and VGA ports for added connectivity to peripherals and compatibility with an array of video devices.

HP's slimmest business display to date, the HP Elite L2201x display easily connects to a notebook with a single DisplayPort connector. Its sleek easel stand design and external power supply free up limited desk space in smaller office cubicles and the brushed-metal finish matches HP's EliteBook business notebooks. The HP Elite L2201x features a wafer-thin display panel measuring less than 0.4 inches thick and a 21.5-inch diagonal, LED backlit panel that eliminates the use of mercury and provides solid state reliability.

Pricing and availability
All products will be available in the United States.
- The HP ProBook 5330m starts at $799; the HP EliteBook 2560p starts at $1,099; and the HP EliteBook 2760p starts at $1,499. The HP EliteBook 2760p and 5330m are expected to be available on May 9 and the HP EliteBook 2560p will be available on May 23.
- The HP Mini 210 starts at $299.99 and is expected to be available on June 15.
- The HP Pavilion dv4 starts at $599.99 and is expected to be available on May 18.
- The HP ENVY 14 starts at $999.99 and is expected to be available on June 15.
- HP DataPass pricing starts at $5, for an amount of 75MB, for a duration of 5 hours.
- The HP 2560p Docking Station starts at $149 and is expected to be available on May 23.
- The HP Elite L2201x starts at $249 and is expected to be available on June 1.
More information about the products, including product specifications and images, is available at www.hp.com/personal.
[engadget]

Dell telah membuka sedikit bocoran mengenai produk laptop gaming Alienware terbarunya melalui situs Dell Kanada. Laptop gaming superior besutan perusahaan elektronik asal Amerika ini akan memiliki nama Dell Alienware M18x yang memiliki layar lebar 18.4 inci dengan resolusi 1920×1080 (full HD).
Tidak ketinggalan prosesor kelas atas seperti Intel Core i7 Extreme juga telah diberikan dan telah di overclock hingga kecepatannya menjadi 4GHz. Dell juga memberikan pilihan grafis seperti AMD CrossFireX atau NVIDIA SLI yang mendukung RAM hingga 32GB DDR3.
Dell Alienware M18x dilengkapi dengan port HDMI 1.4 yang mampu mendukung 3D, Wireless HD, dan lima kunci macro-programmable yang dibungkus oleh casing anodized aluminium. Belum diketahui kapan Dell akan meluncurkannya secara resmi ke publik khususnya untuk para maniak game yang membutuhkan mobilitas tinggi. Tunggu saja perkembangannya
[teknoup]
It is rare to find a device that is both baffling and compelling. We've been talking about the Acer Iconia for a while now and this dual-screened tablet or "Touchbook" is now available and shipping in the US next month. It runs a Core i5 chip, Windows 7, and has two 14-inch screens made of high-strength Gorilla Glass that allow for typing, multi-touch, and gestures.
Acer has created an entirely new interface to the dual-screen system including an odd "ring" interface that lets you select items on screen by making a claw with your hand and spinning onscreen images. Add in various other elements including an onscreen keyboard that essentially turns this thing into a regular laptop and you've got something that may be worth a second look.
It is shipping in April for $1,199.99.

Never mind the fact that Intel's outing a mid-range laptop CPU long after the highest of high-end — the 2.53GHz Core i5-2520M is shaping up to be a lovely option for those who'd prefer a budget choice with plenty of horsepower for churning through HD video. The benchmarking gurus over at Hot Hardware recently grabbed hold of the new silicon, and they noticed an "unmatched performance-per-watt profile for mobile CPUs," not to mention a robust graphics core, "ridiculously low idle power consumption," a respectable price point and plenty of power for any software title not named Crysis 2. ASUS' 15.6-inch K53E was the test machine, and with a starting tag of just $899, it's definitely a compelling package. Based on their testing, this particular CPU was around 15 to 25 percent faster across the board compared to its previous generation 2.5GHz Arrandale counterpart, and that's with around the same power draw, too. Hit the source link for more charts than you'd care to see on an average workday, and be on the lookout for this chip to hit a whole slew of new rigs in the coming weeks.
[engadget]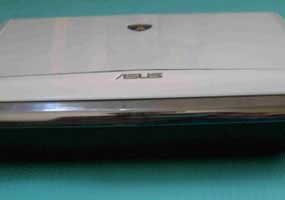 Netbook sering dicitrakan sebagai sebuah laptop kecil dengan performa dan tampilan biasa-biasa saja. Asus sepertinya ingin mengubah anggapan itu dengan menghadirkan netbook Eee PC versi premium dengan nama Lamborghini VX6. Ya, netbook ini membawa sejumlah fitur yang diharapkan membuatnya lebih unggul dari netbook kebanyakan.
Nuansa mobil sport nan agresif coba diterjemahkan Asus dalam Eee PC Lamborghini VX6. Wajar saja, netbook tersebut menyandang nama Lamborghini, merek mobil sport tenar asal Italia. Mari kita tilik mengapa netbook ini berani menyandang nama Lamborghini dan apakah performanya memang seagresif tampilannya.
Desain Agresif
Penampakan bagian luar VX 6 terlihat agresif, mirip dengan sebuah moncong mobil sport. Lekuk-lekuk tegasnya menambah kesan garang. Secara keseluruhan, desain VX6 agresif dan solid, meski kenyataanya sebagian bahannya dari plastik. Ketika dibuka dan ditutup, tidak ada kesan ringkih dijumpai.
Pernak pernik ala Lamborghini kental terasa. Misalnya, terdapat logo banteng bertuliskan Automobili Lamborghini di bagian belakang layar. Kemudian ketika dinyalakan, pengguna langsung disambut dengan bunyi deruman mesin layaknya mobil sport yang sedang beraksi. Tak ketinggalan, ada screensaver khusus yang menggambarkan kaitan erat antara VX6 dengan mobil sport Lamborghini.


Ketika VX 6 dibuka, interior bagian dalam yang didominasi warna hitam pun kelihatan berkelas. Keyboardnya berdiri sendiri dan memiliki jarak yang cukup lebar untuk memudahkan pengetikan. Area touchpad berukuran luas dan didominasi bahan mengkilat nan stylish. Saat dicoba untuk mengakses menu di layar, responnya terhitung sensitif.
Tidak seperti kebanyakan netbook, VX 6 memiliki layar terbilang luas yang seukuran 12,1 inch. Hal ini tentu menguntungkan untuk melihat konten multimedia. Resolusi sendiri sudah mencapai 1336×768 yang membuat obyek-obyek di layar tampil tajam dan nyaman dilihat mata.
Kelebihan lain yang ditawarkan oleh netbook ini adalah sudah disertakannya port HDMI. Kemudian USB sudah berteknologi 3.0 yang secara teori mampu membuat transfer data lebih cepat daripada generasi sebelumnya. Urusan konektivitas internet ditunjang pula dengan Wi-Fi 802.11n dan Ethernet.
Beralih ke fitur audio. Ketika dicoba memperdengarkan berbagai lagu, suara yang mengalun dari dua speaker VX 6 terdengar jernih dan bertenaga, tidak ada kesan cempreng meski diputar dalam volume tinggi. Ya, rupanya ini berkat kehadiran teknologi bernama Ice Power dari Bang & Olufsen, yang menambah kualitas output audio di VX6.
VX 6 memakai sistem operasi Windows 7 Home Premium. Software Office juga tersedia di dalamnya, hanya saja hanya tidak tersedia lengkap, cuma Word dan Excel. Itupun fungsinya masih terbatas.
Uniknya, ada pilihan untuk mengakses menu via Express Gate Cloud melalui sebuah tombol khusus. Pada dasarnya, ini adalah OS dengan fungsi terbatas dan hanya dapat memakai sedikit menu seperti browsing dan mengakses foto.
Performa Hardware Solid
Dari sisi dapur pacu, Asus coba mengandalkan prosesor Intel Atom D525 (Dual Core; 1.8GHz) untuk menangani tugas-tugas komputasi. Kehadiran prosesor dual core ini tampak terasa dalam mulusnya VX 6 ketika dipakai melakukan browsing web, mengakses Office, sampai konten multimedia.
Memang sebagai notebook premium, hardware yang dihadirkan lebih tinggi dari netbook lainnya. RAM 2048MB DDR3 dan kehadiran prosesor grafis Nvidia Ion menambah daya pikatnya. Ujung-ujungnya, VX 6 mampu menangani pemutaran video kelas HD alias High Definiton dengan lancar. Urusan ngegame juga lebih baik dibandingkan netbook lain, meski tetap tidak seoptimal di laptop.
Sedangkan daya tahan baterai ditunjang dengan teknologi Nvidia Optimus.Teknologi ini dapat memfasilitasi pergantian grafis terintegrasi dengan grafis terpisah sesuai kebutuhan untuk memberikan solusi grafis optimal, sehingga menambah daya tahan baterai. Untuk urusan penyimpanan data, Asus menyediakan storage 320GB HDD SATA.
Secara keseluruhan, netbook ini menawarkan desain yang stylish, didukung oleh performa yang solid. Gaya ala mobil sport Lamborghini sepertinya bakal membuat orang-orang banyak meliriknya. Barangkali satu yang jadi kelemahannya, netbook ini terasa lebih berat dan besar dibanding netbook kebanyakan. Namun demikian jika hal ini tidak menjadi masalah, Anda bisa meminangnya dengan harga cukup tinggi dikisaran Rp 6-7 juta.
Kelebihan:
- Desain stylish
- Performa solid
- Suara jernih

Kekurangan
- Sedikit berat bobotnya
- Mahal
[detikinet]
Here's a trend we can get behind: ASUS and others are remixing existing, yet-to-be-released Android tablets with Honeycomb where it makes sense to do so. The Eee Pad MeMO, for instance, is now being promised with a Qualcomm port of the platform in time for its June launch — and along those same lines, the company is showing its Eee Pad Transformer here at CeBIT with a Honeycomb upgrade. Unlike the MeMO, the Transformer is just a straight Tegra 2 setup like the already-launched Xoom, which is likely why they were able to get it loaded on here and functioning relatively well in time for the show. The build ASUS has here doesn't appear to be final — the Android Market is missing, for example — but what was there seemed to be running smoothly; considering the internals, we'd expect no less. Follow the break for video (pardon the lack of audio — there was some talking going on that we found distracting).

Salah satu tablet Asus yang patut ditunggu adalah tablet Asus Eee Pad Transformer. Berbeda dari tablet pada umumnya serta sesuai dengan namanya, perangkat yang satu ini dapat berubah wujud menjadi layaknya sebuah laptop dengan papan ketik yang dapat dicabut.
Tablet ini dilengkapi dengan layar IPS 10.1 inci, resolusi 1280×800, Nvidia Tegra 2 prosesor, kamera belakang 5MP, kamera depan 1.2 MP, papan ketik full size, dan yang terpenting sudah menjalankan OS Android 3.0 Honeycomb. Baterainya diklaim dapat bertahan hingga 16 jam sehingga tepat digunakan untuk pengguna yang memiliki mobilitas tinggi. Eee Pad Transformer akan tersedia bulan April dengan harga berkisar $399 hingga $699.
Desain yang disematkan untuk produk ini juga terlihat elegan karena serba metalik. Lebih jelasnya simak video dibawah ini:
[teknoup]
Blogroll
Google Search :)
Calendar
Archives
Recent Posts