Browsing all articles in Acer
Last month, the Motorola Xoom was the only officially sanctioned Android 3.0 tablet available in the United States. Now there are four — the T-Mobile G-Slate arrived last week, the Acer Iconia Tab A500 this week, and the ASUS Eee Pad Transformer is on sale today, assuming you can find one. All have the same basic silicon inside, but oh-so-slightly different approaches to shape, such that price might honestly be the deciding factor these days. That's where we thought this WiFi-only Acer Iconia Tab had an edge, launching at $450, but now that ASUS has shaken the money tree with a $400 figure for the Eee Pad Transformer, we doubt other price tags will stick. It could be the tiniest of differentiators that shifts your opinion in favor of a particular slate. What's a prospective tablet buyer to do? Join us on a tour of the Acer Iconia Tab A500′s particular perks and quibbles after the break, and we'll tell you.
Hardware
We first saw Acer's 10-inch Android tablet five months ago — when it didn't have so much as a name — but by golly, it doesn't look like the hardware has aged a single day. In some ways, that's a wonderful thing, as we're big fans of the stylish brushed aluminum case, which plays off of the iPad aesthetic without looking like a blatant clone. On the other hand, we were disappointed to find that a few of the iffy design decisions we noticed in earlier prototypes have carried over to the final frame — that aluminum sandwich has very visible seams (one snagged an armhair) and the back sometimes creaks when squeezed. At 1.69 pounds and 13.3mm thick, the A500′s most definitely portable, but still slightly heftier than the Xoom, and of course it feels positively portly beside an iPad 2. The rounded edges make single-handed reading possible, but the weight means you won't want to hold it over your bed. Enough of that for now, though — let's describe what you're actually getting.
Like most Android Honeycomb tablets, the Iconia Tab's front is all bezel and screen (and a tiny front-facing cam), intentionally designed without any buttons to let you hold and use the slate in any orientation. However, unlike most of its competitors the Iconia Tab has an orientation lock switch (on its "top" edge) to save you the trouble of digging through a software menu. There's also a volume rocker up top, which performs a neat orientation trick of its own — it's contextual, meaning the switch changes volume up or down depending on how the tablet is held. Sadly, both of these buttons are made of cheap plastic, sunk into the aluminum frame, and rather difficult to press, which somewhat detracts from the generally classy feeling of the Iconia Tab. There's also a plastic flap right next to the buttons, where you can insert a microSD card (yes, they work out of the box) and a blank space where we expect the AT&T model (or perhaps, the Verizon LTE version that disappeared into the ether) would store its SIM slot.
Moving onto the left side, we have the translucent power button, which doubles as the charging light, a 3.5mm headphone jack, and a mini-HDMI port. We're slightly miffed that Acer couldn't cram a full-size HDMI socket in the copious space here, or at least include a mini-HDMI cable in the box. Regardless, the video connection works fairly well, performing full, responsive display mirroring at 720p resolution, albeit suffering from a bit of overscan. (Acer says 1080p video-out will be supported in a Q2 update.) On the bottom, there's just a docking connector for the optional charging dock with infrared remote, and on the right side you'll find the dedicated power jack and a pair of USB slots: one micro-USB to transfer data to the tablet, and one full-size USB port which connects with both your storage drives and keyboards right out of the box. (Again, you'll need to wait for an Acer update to enable USB mouse support.) Last but not least, the back has the Iconia Tab's ho-hum five megapixel camera with a single LED flash in the upper-right-hand corner — more on that in a bit — and a pair of silvery stereo speakers along the bottom edge.
We'll be frank here — Speakers have been an afterthought on most every tablet we've seen, and they usually range the gamut from "you'll want headphones" to "what are you doing to my ears?" That's not quite the case here. Acer's tiny speakers — augmented by some Dolby Mobile wizardry — sound good enough to share. They're still pretty tinny, mind you, and lack any meaningful amount of bass, but the sound field they produce was rich and full enough to accompany movies and games, and sounded good whether the tablet was held in our outstretched hands or lying flat against a hard surface.
Display
And thanks to the fairly stellar viewing angles of Acer's 10.1-inch, 1280 x 800 TFT LCD display, sharing such multimedia might actually make sense. It's no IPS screen, to be sure, and we won't make any excuses for the incredible amount of glare and raw fingerprint grease attracted to its mirror-like finish, but for a plain-jane LCD panel, it's surprisingly good. Text is crisp, colors pop, whites get blindingly bright and blacks fairly dim, and those features only wash out marginally when viewed at oblique angles. Acer's capacitive digitizer is also blissfully responsive — Honeycomb struggles to keep up — and tracks ten full points of contact simultaneously (we checked) for whatever multi-finger gestures app developers might eventually roll out. Weaknesses include pixels visible with the naked eye and the near-uncertainty of being able to see anything on the screen outdoors, but we've seen plenty of sub-$1,000 laptops that wish they had the screen Acer brings to the table here.
Performance and battery life
We've said much about the potent performance of the dual-core 1GHz Tegra 2 system-on-chip, and as much as we ragged on NVIDIA's seeming inability to deliver the the processor last year, it's at the heart of some of our favorite devices today — including the T-Mobile G2x and the Motorola Atrix, not to mention every Honeycomb slate. However, Acer oh-so-slightly bucks the trend here by providing the A500′s Tegra 2 with 1GB of DDR3 RAM — likely faster than the DDR2 chips used in its close competitors.
Sure enough, the slate seemed slightly speedier in our benchmark suite, as where the Xoom pulled down 1,801 in the general-purpose Quadrant test (and the T-Mobile G-Slate did 1,879) the Iconia Tab pulled ahead of the pack with a score of 2,228 and pushed 2,300 several times. The A500 also regularly delivered over 42 MFLOPS in Linpack — recall that it took a overclocked 1.5GHz Xoom to blaze through 47 MFLOPS. The A500 even pulled slightly ahead in the SunSpider Javascript benchmark, completing a run in just 1,988ms, where the Xoom took 2,042ms. Still, those aren't terribly significant differences, and in real-world testing we didn't see a noticible impact — in fact, if anything, the graphical performance had a couple niggles on our Acer review unit. The A500 plays 720p (H.264) video like a charm (though not 1080p) and does well in Android 3.0′s handful of graphically intensive games, but on rare occasions we noticed some graphical corruption when playing certain videos in RockPlayer or scrolling Android menus, the likes of which never cropped up in our Xoom testing.
No, our only genuine disappointment with the Acer Iconia Tab A500 was its sustained battery life.
| | |
| --- | --- |
| | Battery Life |
| Acer Iconia Tab A500 | 6:55 |
| Apple iPad 2 | 10:26 |
| Apple iPad | 9:33 |
| Motorola Xoom | 8:20 |
| T-Mobile G-Slate | 8:18 |
| Archos 101 | 7:20 |
| RIM BlackBerry PlayBook | 7:01 |
| Samsung Galaxy Tab | 6:09 |
| Dell Streak 7 | 3:26 |
Acer includes a pair of 3260mAh batteries under that shiny rear cover, and for the most part they worked just fine. The battery meter still read 80 percent after a day of idling, and had only dipped to 53 percent by the time we woke up the next morning — with two push email accounts constantly running over WiFi the whole while. After charging up once again, and with moderate use of email, web, a smidgen of video and gaming, and plenty of music playback during a second day, we hit the pillow with 32 percent of battery life remaining. However, when it came time for our standard battery drain test (where we loop the same standard-definition video with the screen at roughly 65 percent brightness, and WiFi on) the A500′s lithium-ion cells gave us only 6 hours and 55 minutes of playback, a good sight worse than any 10-inch Honeycomb tablet we've tested thus far. Mind you, that's still enough oomph to last you a transcontinental flight, but it's a little weak compared to the alternatives here, and that's surprising considering both the underlying silicon and batteries here are supposedly identical to the immediate Android competition.
Software
We're not sure what we can say about Honeycomb that you haven't heard before, but we'll try anyhow: Android 3.0 is a beautiful, functional operating system that lacks serious software support and has quite a few quirks to boot. Assuming enough of us buy Android tablets, the minds of developers around the globe are quite liable to change, but for now, you can expect a lovely browser, Gmail client, music player, calendar, photo browser, chat and maps application, along with whatever additional Android phone software you can get to properly run on the thing. Acer actually includes its own compliment of applications to get you started, but they hurt more than they help — laughably, almost every one duplicates the functionality of an existing Honeycomb app, most of them perform worse, but Acer sticks them right under your nose anyhow by affixing them to a set of glorified app drawers.
Here's the basic rundown:
LumiRead is a simple e-book reader that redirects you to the web browser to actually grab any books, an odd addition when Google's own Books is a tap away; SocialJogger is a Twitter and Facebook status update browser with oversized fonts and a painfully slow UI that could be replaced with the likes of TweetDeck in an instant. There's also NemoPlayer, an ugly (but speedy) photo, video and music navigator that pales in comparison to Honeycomb's fast and stylish Gallery and Music apps; Clear.Fi, another multimedia browser that's slightly slower but prettier; and MusicA, a Shazam-alike that somehow had difficulty recognizing a number of pop hits. The two positive additions here are Acer's Media Server, which lets the A500 stream content to networked computers and DLNA-capable rigs, and Photo Browser 3D, which uses the tablet's inertial sensors to flip through graphically pleasing digital scrapbooks of your camera images.
Camera
It's just a shame Acer didn't put a little extra effort in to make the slate's cameras worthwhile. There are two photo-taking implements on the Iconia Tab A500 — one 2 megapixel webcam up front, and a 5 megapixel imager in back — and we're sorry to say that neither is really worth your effort. Color reproduction actually isn't half bad on the rear camera, and it can actually take fairly pretty macro shots in bright light, but we couldn't get the lens to focus on subjects further than a few feet away — which resulted in loads of blurry images, needless to say. We're still not sold on the idea of taking photos using a ten-inch slab of glass, regardless, but we suppose augmented reality developers (and video chat engineers) with thank Acer for their inclusion.
Speaking of video, we're sorry to say it's far worse than the stills.
As you can see in our sample video above, the Acer Iconia Tab A500 is technically capable of 720p recording, but we'd be hard-pressed to call it high-definition here — only in a small window on a webpage and with the tablet held perfectly still does it even look even passable. Compression artifacting crops up when making any rapid motion, and the short focus rears its head again, blurring everything more than a few feet away from the slate's sensor. Audio is also problematic. Even the wind generated by simply walking outdoors muffled most everything else.
Wrap-up
All in all, the Acer Iconia Tab A500 is a solid piece of hardware, if you have to have an Android tablet right now, but we don't know if we could recommend it in good conscience over some of the competitors on offer. Honestly, we're still slightly iffy about Honeycomb itself, and the longevity of the Tegra 2 processor, given the lack of Android 3.0 apps and speed at which OEMs are adopting faster and more efficient silicon respectively. At present, ASUS' Eee Pad Transformer seems the obvious choice if you can't afford a G-Slate — assuming prices stay the same — but at the same time, we don't think you'll be wholly displeased with Acer's tablet if brushed aluminum's your thing. Just keep that AC adapter handy.
[engadget]
Pesaing iPad 2 dari ranah Android kembali muncul dengan hadirnya Acer Iconia Tab A500. Dengan spesifikasi yang dibawanya, tablet ini menjadi salah satu tablet Android terbaik dengan harga sesuai harapan pasar.
Tablet ini akan hadir 24 April 2011 ini di Amerika Serikat dengan harga $499.99 dan sudah bisa dipesan mulai sekarang melalui toko Best Buy. Tablet buatan Acer ini memakai layar 10,1 inci dengan OS Android Honeycomb ditambah memori internal 16GB, RAM 1GB, hingga prosesor Nvidia Tegra 2 SoC 1GHz dual-core. Di bagian belakang terdapat kamera 5MP dan kamera 2MP di bagian depan. Acer juga mengklaim tablet ini bisa bertahan 8 jam untuk memutar video HD dan hingga 10 jam jika dipakai untuk menjelajah web. Tablet ini berbobot 766 gram dengan baterai 3260mAh. Dimensinya juga lumayan besar yaitu 13.2mm x 260mm x 177mm.
Mengingat tablet ini diperkirakan akan meramaikan pasar tablet karena faktor harga dan spesifikasinya yang bersaing, berikut ditampilkan perbandingan antara tablet ini dengan Apple iPad 2 maupun Samsung Galaxy Tab. Silakan ditentukan apakah tablet ini akan layak dipilih sebagai salah satu gadget idaman.
[teknoup]
It is rare to find a device that is both baffling and compelling. We've been talking about the Acer Iconia for a while now and this dual-screened tablet or "Touchbook" is now available and shipping in the US next month. It runs a Core i5 chip, Windows 7, and has two 14-inch screens made of high-strength Gorilla Glass that allow for typing, multi-touch, and gestures.
Acer has created an entirely new interface to the dual-screen system including an odd "ring" interface that lets you select items on screen by making a claw with your hand and spinning onscreen images. Add in various other elements including an onscreen keyboard that essentially turns this thing into a regular laptop and you've got something that may be worth a second look.
It is shipping in April for $1,199.99.

Salah satu tablet Asus yang patut ditunggu adalah tablet Asus Eee Pad Transformer. Berbeda dari tablet pada umumnya serta sesuai dengan namanya, perangkat yang satu ini dapat berubah wujud menjadi layaknya sebuah laptop dengan papan ketik yang dapat dicabut.
Tablet ini dilengkapi dengan layar IPS 10.1 inci, resolusi 1280×800, Nvidia Tegra 2 prosesor, kamera belakang 5MP, kamera depan 1.2 MP, papan ketik full size, dan yang terpenting sudah menjalankan OS Android 3.0 Honeycomb. Baterainya diklaim dapat bertahan hingga 16 jam sehingga tepat digunakan untuk pengguna yang memiliki mobilitas tinggi. Eee Pad Transformer akan tersedia bulan April dengan harga berkisar $399 hingga $699.
Desain yang disematkan untuk produk ini juga terlihat elegan karena serba metalik. Lebih jelasnya simak video dibawah ini:
[teknoup]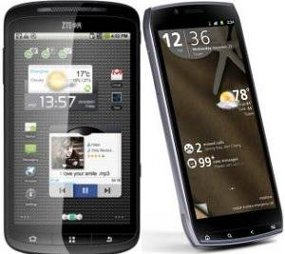 Meski cukup digdaya di ranah komputer, Acer belum begitu menunjukkan taji di dunia smartphone. Pabrikan asal Taiwan ini pun coba kembali unjuk gigi dengan kehadiran Acer Iconia Smart, sebuah smartphone berbasis versi terbaru Android untuk ponsel, yakni Gingerbread.
Iconia Smart mengusung layar besar di dunia smartphone, yakni 4,8 Inch. Resolusinya 1024×480 dengan rasio layar 21:9. Di dalamnya, prosesor 1 GHz Qualcomm Snapdragon jadi nyawa ponsel yang sebelumnya sudah hadir penampakannya ini.
Bersama lini smartphone Liquid, Iconia Smart menambah portofolio Acer dalam usaha melawan dominasi para raksasa di ranah smartphone. Acer menargetkan dapat menjual 5 juta smartphone pada tahun 2011.

ZTE Rilis Ponsel Skate
ZTE meramaikan Mobile World Congress (MWC) 2011 dengan meluncurkan smartphone bernama Skate. Sama seperti Iconia Smart, ponsel ini juga menggandeng OS Android Gingerbread, meski spesifikasinya lebih rendah.
ZTE Skate mengadopsi prosesor 800 MHz. Untuk merekam momen penting, Skate dibekali kamera 5 megapixel.
ZTE baru-baru ini mencetak prestasi dengan menyingkirkan Apple sebagai vendor ponsel keempat terbesar di dunia. Kebanyakan penjualan vendor asal China ini mengandalkan jajaran ponsel berharga terjangkau. ZTE Skate sendiri diprediksi berharga cukup murah meski ZTE belum menyebutkannya.
[detikinet]
Tablet PCs
Acer Iconia Tab A500 first hands-on!
By
Sean Hollister
posted Jan 6th 2011 12:35AM
Acer's ten-inch Tegra 2 tablet with Verizon LTE? You're looking at it right now, courtesy of the NVIDIA booth at CES 2011′s Digital Experience show. It's just the same engineering prototype with an early build of Android 2.2 we've seen before — it'll run Honeycomb at launch — but this time, we got to touch. The hardware seriously feels final, with a solid metal case and a supremely responsive touchscreen that tracks a full ten points of contact. There's an interesting array of ports, too, with a full-sized USB port (as well as micro-USB) on one side and a dedicated charging socket too, as well as a dock connector on the bottom. What's missing are the standard Android Home, Menu and Back buttons, as instead of those, you simply swipe the lower right corner of the screen to bring up a tiny pane of virtual alternatives. No LTE connectivity to be found at Digital Experience, we're afraid, so we'll have to bring you speed tests another day — but we'll have video up soon. For now, peep the gallery below.
We wish we had better news about our hands-on success here at the Acer global press conference, but because all of the company's Android tablets will run Honeycomb / 3.0 or Google's "tablet OS" most of the units just weren't functioning. The 10.1-inch, dual-core Tegra-powered version was the only unit that would power on, and though we did get to see it blaze through some HD video, for the most part it was very sluggish and clearly acting like a pre-production unit. As far as the hardware goes, the display was bright and surprisingly had decent viewing angles. Acer's been notorious for using terrible LCDs, so this is quite a nice change! Oh, and as you already knew, it does have two cameras.
We eventually convinced a very nice Acer rep on hand to bring out the 4.8- and 7-inch devices for a hardware demo — both of them were also very early units, but they did look nice from afar with glossy black screens and brushed metal backs. The phonlet's 4.8-inch, 1024 x 480-resolution screen (it has a 21:9 aspect ratio!) makes it much wider than a Streak, and reminded us a lot of the LG GW900 (may it rest in peace). We told you we didn't have much in the way of impressions, but hit the gallery below for some more hands-on shots and the break for a quick video of the 10-incher in action. April can't come soon enough, can it?

[engadget]
Acer's dual-screen Iconia laptop is bold, for sure — eschewing a physical keyboard for another display — but its LCD panels are also mighty glossy. If you've got a light in the vicinity above you, there's gonna be glare — we saw it on stage, and we just saw it now in person. That said, the screen is clear and the touch functionality is pretty clever (five fingers open up a widget where you can scroll through other touch-friendly apps). The keyboard, on the other hand, is pretty hard to use — even the rep admitted there's a learning curve. You can't rest your fingers down without hitting something, of course. We managed to browse to Engadget, but it took several tries. Check out the photos below!
Update: Now with video! It's after the break.

[engadget]
More 3D choices for your 3D lifestyle.
Acer
is launching a pair of products that'll give you another excuse to wear fancy active-shutter glasses at all times, starting with the HS244HQ, a 1080p monitor that measures 23.6-inches across, has the requisite 120Hz refresh rate and manages a 12,000,000:1 contrast ratio thanks to its LED backlighting. We're also learning more about the
AS5745DG
laptop, a "high cost-performance model" 15.6-inch laptop with NVIDIA
GeForce GT425M
graphics, 2.53GHz Intel Core i5-460M processor, 4GB of RAM, 640GB of storage, and a 120Hz display with a pair of
3D Vision
glasses to match. It's a bit meatier than the company's
5738DG
from last year, and rather pricier too, with an MSRP set to fall just under 100,000 yen — about $1,200 when it ships next month. No word on the monitor's cost yet, but don't expect a bargain.
[engadget]
Blogroll
Google Search :)
Calendar
Archives
Recent Posts