Browsing all articles in Windows Phone
Microsoft has released the Windows Phone 8 SDK for the Build developer conference, now taking place on the Redmond campus.
The SDK is described as an environment "for building apps and games for Windows Phone 8 and Windows Phone 7.5." That's pretty obvious but why 7.5? That's the odd thing here.
It has a stand-alone Visual Studio Express 2012 edition. It can also work as an add-on to Visual Studio Express 2012 edition for Windows Phone or works as an add-in to Visual Studio 2012 Professional, Premium or Ultimate editions. Microsoft says the SDK also includes emulators and additional tools for profiling and testing a Windows Phone app under real-world conditions.
Here are the system requirements from the site:
Supported operating systems: Windows 8, Windows 8 P

Windows 8 64-bit (x64) client versions

Hardware:

4 GB of free hard disk space
4 GB RAM
64-bit (x64) CPU

Windows Phone 8 Emulator:

Windows 8 Pro edition or greater
Requires a processor that supports Second Level Address Translation (SLAT)
RedMonk analyst Donnie Berkholz, here at Build said this to me about the SDK:
Windows Phone 8 now provides an end-user experience on par with iOS and Android. The public release of the developer SDK finally makes it possible to nail a critical component of mobile adoption, the broader app ecosystem. Unfortunately the SDK wasn't released in advance of Windows Phone 8 so developers could have apps available at the release, which will hurt both developers and Microsoft because of the importance first impressions have to consumers. Given Microsoft's near-legendary tenacity and its clear understanding of the importance of mobile devices, I expect they'll continue pursuing this until they get it right — if not for Windows Phone 8, for the next release.

[techcrunch]
Microsoft this morning revealed key new features for the upcoming Windows Phone 8 operating system, including the ability to resize and tweak Live Tiles, one of the flagship features of the Windows Phone operating system. Among other goodies for developers, Windows Phone 8 will include an e-wallet capability and a partially shared code base that makes it easier to quickly port apps between the PC and the phone. Perhaps most importantly, Microsoft also announced new partners who would be building Windows Phone 8 smartphones.
Microsoft executives took the stage in San Francisco to tell a small audience of developers about the Windows Phone 8 Platform Preview, including features that "developers need to know now," said Terry Myerson, a corporate vice president for Microsoft. Microsoft executives didn't disclose when Windows Phone 8 would be available to consumers, but promised that the SDK will be available to developers later this summer.
To date, Microsoft's Windows Phone has been well received by critics, but hasn't yet managed to make a substantial dent in U.S. smartphone sales, falling to just 4.4% of all U.S. smartphone sales in March, according to comScore. Google's Android OS, meanwhile, has hovered around 50% of all U.S. smartphone sales, with Apple's iOS at about 30%. Microsoft staged today's event to lure additional developers, hoping to boost the ecosystem of hardware and software development that has come to be the essential foundation of smartphones. More than 94,000 Windows Phone apps have been developed, a Microsoft graphic indicated.
Microsoft executives also said that its OEM base for Windows Phone 8 would be expanded to include Nokia, Samsung, Huawei and HTC, all based on next-generation silicon from Qualcomm, across a wide range of prices and hardware capabilities. Windows Phone 8 will be released in 50 languages and 180 countries, Myerson said, calling it the "best lineup" in the company's history.
Myerson and Joe Belfiore, the Microsoft vice president who is responsible for Windows Phone, unveiled eight platform features for Windows Phone 8 that the company will use to motivate developers. "This is a huge release. This is a huge year" for Microsoft, Belfiore said.
Common Core
The flagship capability is what Microsoft calls "the common core," a shared set of code between Windows Phone 8 and Windows 8 on the desktop that will allow developers to write an app once for Windows 8 and make minimal changes to port it to Windows Phone 8. Apps will share drivers and hardware, including multicore processors.
"Really, it changes what the platform is about," Belfiore said of the common core. "It's a platform for software developers and hardware markets and Windows Phone 8. This is a well-tested piece of software, and now that familiarity is on Windows Phone."
"The net of this, in our opinion: We will see more apps, bigger apps coming faster, and we will see bigger, more beautiful apps running on Windows Phone running faster than ever before," Belfiore claimed.
At the event, Nokia announced new experiences for its Lumia devices, including PlayTo, a streaming app to DLNA devices. Nokia Counters, meanwhile tracks data usage, and new camera apps will create panoramas and "smart group" shots that can mash up pictures, a Nokia executive said. Nokia also upgraded its Maps apps with the ability to pin a location to the Start page, and a "My Commute" feature to calculate the best commute route.
But Common Core also means that Microsoft will jump to an upgraded code base. Early Windows Phones were based on Windows CE, and the new software will break with that. That means that early Windows Phone adopters will have to buy new, incompatible phones. However, the new Windows 8 phones will be supported for 18 months, Myerson pledged – and Windows Phone 7.5 customers will be upgraded to the new Windows Phone 8 Start Live Tiles experience, Myerson said.
'We care very deeply for Windows Phone 7.5 customers," Myerson said, promising that Microsoft itself would recompile every application inside the Windows Phone app store for Windows Phone 8. Developers won't be forced to recompile; it will just be done for them. And Visual Studio 7.5 will be upgraded for Windows Phone 8 development, the company said.
Three Primary Display Resolutions
The common core will enable the latest hardware: dual- and multi-core phones, as well as three primary display resolutions: 1280×720, 1280×768 and 800×480. The first resolution is a true 16:9 ratio while the others are 15:9, Belfiore said.
Internet Explorer 10
Microsoft will include the latest and greatest Internet Explorer: IE10. It shares a common rendering engine with Windows 8, Belfiore said, and runs Java four times faster than Windows Phone 7.4 – better than the Samsung Galaxy S III, the HTC One S and the iPhone 4S. Additional features include the SmartScreen antiphishing technology, Belfiore said.
NFC
Windows Phone will also support Near-Field Communications (NFC), the short-range wireless technology used in Google Wallet and other apps. And Belfiore pledged the "most complete wallet experience" on a phone this fall. It will support credit, debit, loyalty and membership cards, allowing access to saved deals and even the "tap to pay" experience that allows a phone to replace a wallet. Microsoft executives showed off a stored Chase app for Windows Phone 8 that will be released in the fall. For more on e-wallets, see Apple's Opportunity: Disrupt the Credit Card Business.
Microsoft also indicated that its e-wallet philosophy differs from Google's: To safely allow purchases, the phone must support not just NFC but a secure SIM card to allow information to be stored in the device, rather than the encryption chip Android phones include in the phone hardware itself. Some mobile operators have removed Google Wallet because they want customers to move payment information from phone to phone via the SIM, rather than locking it to the phone hardware itself, Belfiore said.
Belfiore said that the UK's Orange will be the first carrier to market with secure SIMs. He also referenced ISIS, the carrier coalition between AT&T, Verizon and Sprint. "We expect to have a secure SIM solution with ISIS next year, but not at launch," Belfiore said.
New Nokia Mapping Technology
Windows Phone will support Nokia's mapping technology built in. "Windows Phone will have much better detail with the Navteq map data that's built into Nokia's map technology," Belfiore said. Offline map support will also be included – a feature that Google recently promoted – and the map controls will be made available to developers. Nokia will also include turn-by-turn directions in "many countries around the world," Belfiore said.
Business-Specific Hooks
Windows Phone 8 will also include several business-specific hooks. "Some IT administrators have been somewhat dissatisfied" with Windows Phone 7, Belfiore acknowledged. "We think we have filled those gaps with Windows Phone 8." The hooks include encrypted content and secure boot, the ability to sign applications, and enabling device management with familiar techniques and tools. Finally, it wouldn't be a Windows Phone without familiar Office apps, Belfiore said.

Adjustable Live Tiles
In what's being called Windows Phone 8's sexiest feature, the OS will give users the ability to adjust the size and content of Live Tiles, the widgets on the home page of Windows Phone 8. Users will be able to place sports applications in the foreground in large tiles, for example, or choose to emphasize messages or news. "We know our users really love their phones, and Live Tiles make their phones so special, and so personal," Belfiore said.
Additional announcements included support for Audible, an audiobooks app for Windows 7.5 that will be available later today, and improved VoIP capabilities that will treat calls made via Skype as just another phone call, and will let them run in the background.
[RWW]
As the sun just starts to set here on the West Coast, we've got a bit of news straight from the other side of the globe: Fujitsu and KDDI (Japan's second largest wireless operator) have just confirmed that they will launch the world's first phone running Windows Phone 7.5 (Mango) sometime in September.
Word of the new handset comes from a Tokyo press gathering which just began moments ago. Exact details surrounding the handset are still developing, but all signs are pointing to it being the Toshiba-Fujitsu IS12T (Update: this is now confirmed) device that Microsoft gave a very brief sneak peak of at their Worldwide Partner Conference just a few weeks back.
The handful of images in this post are pulled from a video of that fleeting glimpse; we'll update with better photos as soon as they're available.
Here's what we know about the device:
3.7″ LCD Display
1 Ghz Qualcomm MSM8655 CPU
Waterproof
13.2 Megapixel Camera
Will come in multiple colors. Bright yellow and pink versions of the handset have already been caught in leaks. (Update: Looks like it'll come in black, too.)
32GB of internal memory
Windows Phone 7.5 (otherwise known as "Mango", since all the cool kids give their updates fun nicknames now) is the first major update to the platform. I've spent a good amount of time with it on a pre-release device, and to sum up my experience: call it what you will, but this is version 1.0. This is the first version of Windows Phone 7 that feels competitive thrown up against the likes of Android and iOS and, while it's still lacking a trick or two, is the first version that feels complete.
For those of you who don't gobble up every bit of Mango news, a quick recap of the bigger new stuff:
Multitasking support: Quick app switching, with certain apps (music, GPS) allowed to run in the background
Internet Explorer 9 with HTML 5 support
Turn-by-turn, Voice Guided Navigation
Social Networking:Integrated Twitter support, plus the addition of Facebook check-ins.
Dynamic Live Tiles: Tiles for third-party apps on the homescreen can show live updated information
Unified Threaded Messages: Support for text/facebook chat/Windows Live Messenger all pulled into one conversation window
Unified Inbox: Shows all of your email inboxes in one view, with threaded e-mail support
Custom Groups: You can bundle contacts into "group" tiles on the homescreen for quick access to just that group's status updates, or to quickly text the entire group at once
Voice-to-text text messaging
Bing Stuff: Music Search (think Shazam), Vision (scan a book cover or barcode to search for that product)
Alas, chances are pretty slim that this thing will ever come stateside. Don't fret though, Windows Phone fans (hey, they exist!): there should be plenty of Mango to go around by years end, with the likes of Samsung, Acer, and plenty of others throwing their goods into the ring.
Microsoft baru saja merilis sebuah video baru yang memperlihatkan fitur-fitur dari People Hub di Windows Phone Mango. Sayangnya dalam video ini lebih banyak terlihat orang yang menjelaskan fitur ini daripada langsung kepada pokok fitur dari People Hub tersebut. Namun setidaknya video tersebut cukup menjelaskan kemampuan baru dari People Hub seperti notifikasi baru pada sistem Live Tile untuk daftar kontak yang di pin ke homescreen.
Setelah kontak di pin ke homescren, Live Tile akan memberikan info notifikasi untuk email baru, sms baru, status Facebook atau Tweet baru, missed call, dan lainnya. Dengan memilih card yang ada, akan tertampil seluruh history percakapan yang pernah dibuat dengan orang tersebut. Sayangnya update ini hanya bisa dinikmati paling cepat September nanti.
[teknoup]
Salah satu fitur baru pada Windows Phone 7 Mango adalah Office 365. Office 365 adalah aplikasi pengolah dokumen, email, dan notes yang dapat diakses dimana saja dengan menggunakan Windows Phone 7. Kirk Koenigsbauer, Corporate Vice President of Microsoft Corporation, mendemonstrasikan kemampuan dari Office 365 pada Windows Phone melalui sebuah video berikut ini.
Windows Phone adalah satu-satunya smartphone yang memiliki aplikasi Outlook Mobile dan Office Mobile yang berjalan tanpa hambatan dengan Office 365.
[teknoup]
During a media event today, Nokia unveiled its first Windows Phone-powered mobile device.
But before the company's CEO Stephen Elop revealed the phone, he asked everyone there to refrain from taking any pictures. It was strictly to be for the eyes of the invited media only.
Given how much hullabaloo there is surrounding Nokia's deal with Microsoft, however, it's not surprising that someone just had to covertly snap a couple shots.
Originally posted on the Hungarian blog Technet, the pictures reveal a phone that looks remarkably similar to the upcoming Nokia N9 handset, which is likely to be the first and last (that is, the only) phone powered by Meego – the mobile operating system that was to be Nokia's last-ditch effort before signing up for Windows Phone 7.
A slick Gorilla Glass screen and an 8 MP camera including a Carl Zeiss lens are among the first known technical specs of the phone, which reportedly goes by the code name Sea Ray.
Of course, Nokia and Microsoft entered into a partnership earlier this year. In exchange for a huge wad of cash, Nokia agreed to abandon its decades-old Symbian operating system and start using Windows Phone 7 on all of its future phones.
Nokia has a huge, almost monopolistic presence in emerging parts of the world, and it employs some of the most heralded mobile phone designers and manufacturers on the planet. So the company is by no means irrelevant now, even though it has for the first time slipped to below the #1 position on the list of global mobile phone companies.
As expected, neither Nokia nor Microsoft has been willing to comment on when the first Windows Phone 7-powered Nokia handset will be shipped to stores, but it is noteworthy that means they haven't officially ruled out a 2011 launch.
[tgdaily]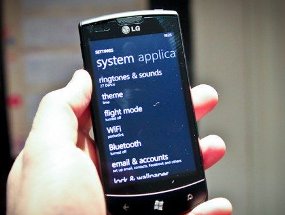 Beberapa waktu lalu, Microsoft mendepak tools pembobol Windows Phone 7 (WP7) dari Marketplace. Kini, tiba-tiba mereka justru merestui perangkat tersebut.
Tools pembobol tersebut bernama ChevronWP7. Aplikasi ini diklaim menjadi tools pertama yang dibuat para pengoprek untuk membedah Windows Phone 7. Aplikasi ini diciptakan oleh tiga sekawan: Rafael Rivera, Long Zheng dan Chris Walsh.
Para pembuat Chevron WP7 mengaku membuat aplikasi ini untuk memberikan akses kepada pengguna atau developer agar bisa menyusupkan aplikasi pihak ketiga tanpa harus dipersulit dengan persyaratan di market place Windows Phone 7.
Kini tim pengembang ChevronWP7 justru mendapat restu penuh dari Microsoft. Mulai sekarang para pengembang aplikasi bisa bebas menggunakan ChevronWP7 untuk memodifikasi Windows Phone, namun dikenakan biaya. Asal hal itu untuk tujuan pengembangan aplikasi.
"Sejalan dengan dirilisnya Windows Phone Dev Podcast, kami akan merilis juga layanan Windows Phone unlocking, sebagai bagian dari ChevronWP7 Labs. Ini segera tersedia bagi para pengembang di semua negara," tulis pesan Microsoft.
Tampaknya, Microsoft justru memanfaatkan celah tersebut sebagai bagian dari bisnis mereka. Developer pengguna ChevronWP7 bakal dikenai sedikit biaya via PayPal saat ingin menggunakan aplikasi tersebut.
[detikinet]
Microsoft is adding support for NFC (near field communication) to its Windows Phone mobile operating system, according to a report citing unnamed sources over on Bloomberg Businessweek. NFC technology, which allows for short range wireless communication between two devices for the purpose of data exchange, is a key component to the upcoming mobile payment and mobile wallet systems now reportedly under development at Google, RIM and Apple as well as the new carrier-led initiative Isis, a coalition of three of the four major cellular providers here in the U.S.
Support for NFC technology in Windows Phone 7 will be released via an update to Microsoft's mobile operating system, sources told Bloomberg reporters. Those updates may arrive sometime this year.
Bloomberg says that the addition of NFC is an effort to close the gap between Microsoft and Google, the latter which is currently the leading smartphone platform here in the U.S., and, according to at least one analyst firm, worldwide.
Google's Android mobile operating system added in NFC support in the release code-named "Gingerbread" (Android 2.3) and has incrementally added new capabilities since then to broaden its feature set. In February 2011, for example, an update delivered the ability to both read and write to standard NFC tags, whereas before the NFC support was read-only.
The ability for data to flow both ways is critical for mobile payments initiatives such as the one Google is reportedly working on with partners Citigroup and MasterCard.
The Bloomberg report doesn't say whether Microsoft will follow Google's lead, rolling out crippled NFC support to Windows Phone 7 at first, then gradually updating the software through additional software releases. It's possible that, when added, Microsoft will offer full read/write NFC support from the very start.
Microsoft's newest partner Nokia, which will launch its own Windows Phone devices sometime in Q1 2012, or possibly Q4 2011, has been a longtime player in the NFC market, offering a variety of handsets that allow for this capability. Nokia has also promised that all its Symbian-based phones introduced this year will include NFC support by default.
[rww]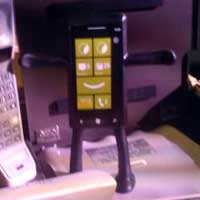 Ajang South by Southwest (SXSW), memang bukan sekedar perhelatan musik dan film semata. Vendor teknologi pun banyak berkiprah di dalamnya. Seperti Microsoft dengan ikon Windows 7 barunya.
Agaknya Microsoft cukup gerah melihat kesuksesan Android dengan ikon robot hijaunya. Kepopuleran ikon robot hijau yang lucu, membuat banyak orang mencari boneka ikon Android tersebut. Beberapa mereka merupakan pengguna Android awal.
Sebagai bagian dari kampanye, produsen Windows Phone 7 itu pun memperkenalkan ikon Windows Phone 7 yang diberi nama 'Windows Foam 7′ kepada kawula muda di ajang SXSW.
Karakter ini memang orisinil dari Microsoft. Bentuknya adalah ponsel Windows yang diberi tangan dan kaki. Sementara di bagian layar terdapat mata dan lingkaran senyum.
Banyak pihak langsung mengkritik ikon Microsoft yang tampak aneh tersebut. Jelas saja jika dibanding ikon robot hijau yang lucu, Windows Foam 7 tampak lebih kaku. Nama 'Windows Foam 7′ pun tampak terlalu dipaksakan untuk sebuah ikon yang lucu.
"Seseorang di bagian marketing Microsoft segera dipecat karena mengeluarkan ide menyedihakan ini," ujar salah satu komentator dalam situs phonearena
[detikinet]
Berdasarkan data dari Windows Phone App List dan Marketplace Browser, saat ini jumlah aplikasi yang tersedia di Windows Phone Market telah melewati angka 10.000 buah. Pencapaian ini diperoleh lebih cepat daripada Android dan setara dengan kecepatan dari Apple App Store.
Jumlah aplikasi di Windows Phone Market mencapai 10.000 buah berkat adanya tambahan sekitar 1200 aplikasi dalam dua pekan terakhir. Angka ini meningkat dari kecepatan biasanya yang hanya sekitar 1000 aplikasi per pekan. Jumlah aplikasi di Windows Phone Market ini berarti lebih besar daripada aplikasi yang tersedia untuk webOS dan semakin mendekati Blackberry App World.
Android Market membutuhkan waktu 11 bulan untuk mencapai tonggak 10.000 aplikasi, sementara Windows Phone 7 Marketplace mencapainya dalam waktu sekitar 4,5 bulan saja. Bahkan tonggak 10.000 aplikasi untuk WP7 ini juga lebih cepat daripada Apple App Store yang mencapainya dalam waktu 142 hari.
[teknoup]
Blogroll
Google Search :)
Calendar
Archives
Recent Posts